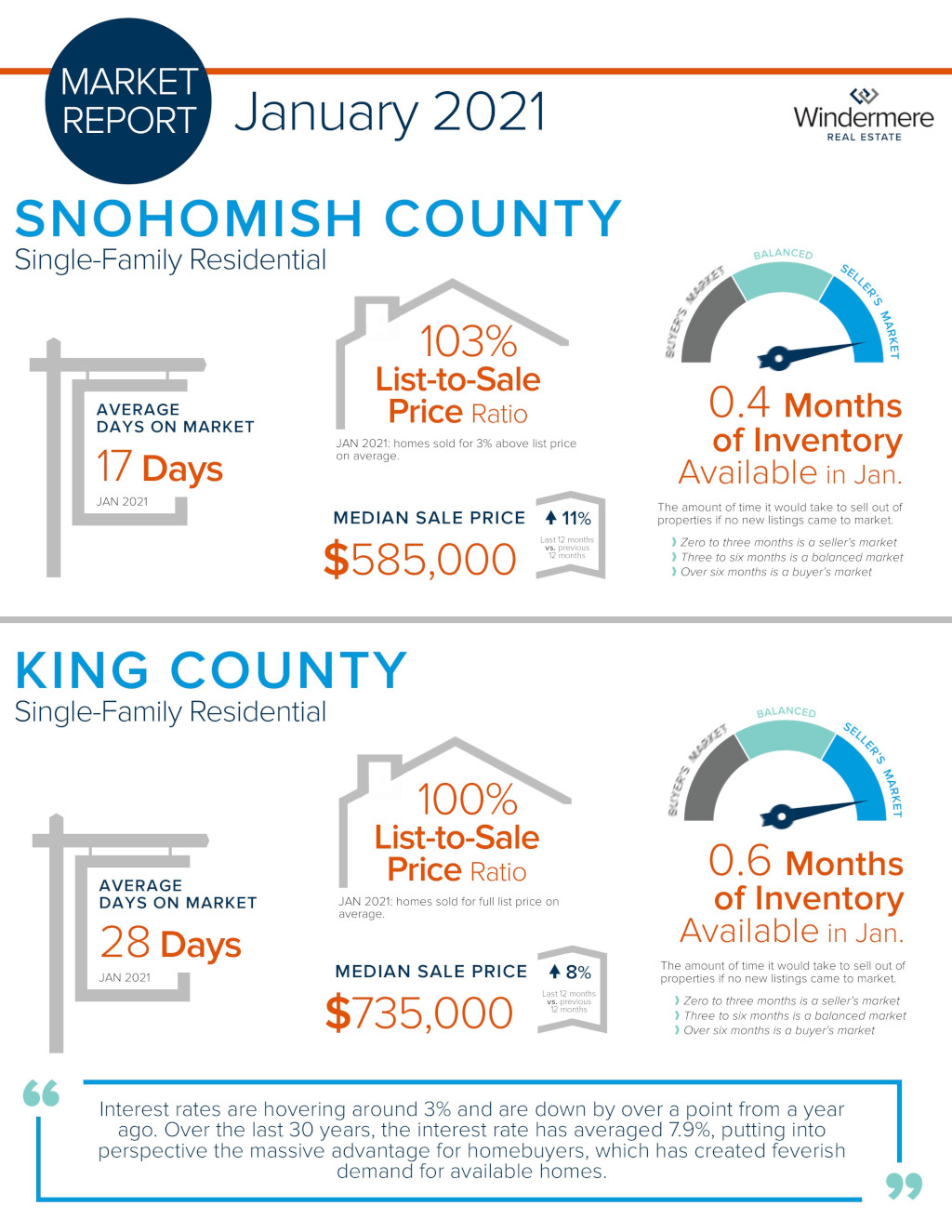 The 2021 real estate market is off to a very brisk start. Historically low interest rates are driving buyer demand. This is coupled with a needed "catch-up" in available homes for sale. In 2020, we saw a stall in new listings during our normally plentiful spring market due to the pandemic. From April to June of 2020, new listings were only a portion of what would have been typical for that time of year. Where it became tricky was in May of 2020 when buyer activity rebounded, and we started to record higher levels of pending sales in 2020 over 2019. This led to the inventory deficit that we currently find ourselves in.
The stats above for King and Snohomish counties highlight the January statistics. In both markets, prices are up year-over-year and well above average appreciation levels. This is due to the phenomenon described above which is a classic case of supply and demand. This has led to months of inventory remaining tight, with mere weeks' worth of available homes. Days on market have reduced by 38% in King County and 41% in Snohomish County year-over-year, and homes are consistently selling at or above list price.
What does this market mean for sellers? We have already seen sellers that have come to market in Q1 enjoying large buyer audiences and great results. Note that the stats in the image are closed sales in January, which means most of them went under contract (pending) in December. Transactions that closed over the last 7 days and most likely went pending after the first of the year are recording very favorable results for sellers. For example, in King County, there were 305 closed sales from 2/9/21 to 2/15/21 with average days on market at 24 days and a 108% list-to-sale price ratio. In Snohomish County, there were 101 closings in the same timeframe, with average days on market at 14 days and a 104% list-to-sale price ratio. Tight inventory and motivated buyers are creating these results. As we head into spring, we expect to see more homes come to market which could soften these escalations. This would not be a bad thing as sellers are sitting on 9 years of equity growth and these recent gains have been a bonus.
What does this market mean for buyers? Well, you must have a plan! Pre-underwritten financing, pre-offer performed due diligence, organized funds for the down payment, and possible appraisal cushions have been key elements for success. In addition, aligning with a skilled broker to help a buyer prevail is paramount. A responsive broker who is a good communicator can be the difference-maker in winning a home. Listing agents and sellers will not only vet the elements of an offer, but they will also consider the working relationship established with buyers' brokers as they review offers. There is a special magic to developing these relationships and it takes extra effort. Windermere as a company has been a market leader for many years and continues to work hard to make strong connections for success.
Buyers are anxious to secure their next home with today's interest rates helping to off-set the expense of price appreciation. With debt service so low, buyers are hungry for more inventory and will most likely start to see an increase in selection in the spring and summer months. Fortitude is the name of the game for buyers, but it will be worth it in the end as the interest rates are amazing and price gains don't seem to be going away anytime soon.
If you are curious about how today's market relates to your real estate goals or know someone that needs real estate assistance, please reach out. I am constantly studying the activity in the market to anticipate where we are headed in order to provide sound guidance. It is always my goal to help keep my clients informed and empower strong decisions.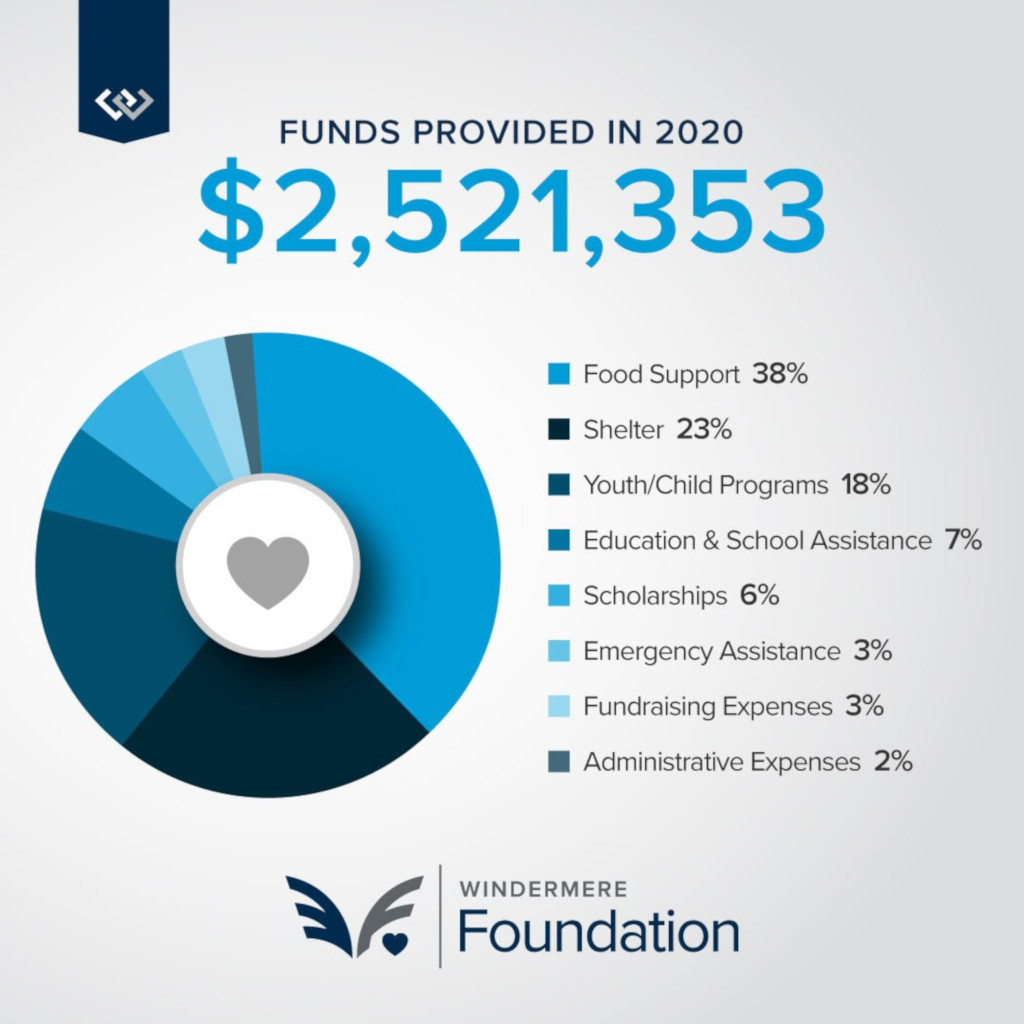 At Windermere, we help people buy and sell homes, but we also help build community. I'm proud to support the Windermere Foundation which has raised over $43 million in the past 32 years for low-income and homeless families right here in our local community.
In 2020, the Windermere Foundation provided over $2.5M in funds to 569 organizations, while keeping administrative expenses to 2%. The Foundation has been dedicated to helping homeless and low-income families and individuals since 1989. A portion of every commission is donated to this effort along with funds raised from special projects in individual offices.
In 2020, my office donated 5,600 lbs of food and $24K to various food banks associated with The Volunteers of America of Snohomish County as a result of four separate food drives we held throughout the year. We partnered with the YMCA's Camps Orkila and Colman and donated just over $9K in order to keep the camp operating even though they were not able to open due to the pandemic. This will ensure they will be ready to have kids enjoy the benefits of camp when it is safe. We also sponsored 24 teenage foster boys at Christmas and made sure they had gifts on Christmas morning. We aligned with Pioneer Human Services to create this connection as well as provided grocery gift cards totaling over $3K to eleven families so they could enjoy well-stocked cupboards during the holidays. These opportunities to give back bring purpose to our work and we will continue to work with these organizations in 2021.